We believe that every child is unique and can accomplish anything they put their minds to. Our childcare centers FOCUS on each and every child individually. We provide a clean and comfortable environment that encourages creative and educational activities. Parents are always welcome and can communicate with our friendly staff at any time. We seek to create a strong relationship with parents to support healthy interactions and open communication.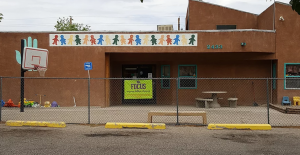 Our preschool rooms are divided into separate learning areas that include the library, home living, art center, blocks center and circle time. We also  have areas for dramatic play and science. These learning areas within the classroom promote a variety of activities for each child to choose from throughout the day. Through play and group activities our children will learn social-emotional and cognitive skills. They will have many educational activities to choose from that best fit their individual needs and interests. Our caregivers use the shadowing approach to guidance, encouraging our children to make their own choices.
Our goal is to see our children exhibit healthy social-emotional and developmentally appropriate growth. Parents can feel confident that their children are receiving quality care to better prepare them emotionally, socially, and scholastically.
  We are a part of FOCUS, which is New Mexico's newest tiered quality rating program.
Sandia Learning Center